Fertility Week Ambassador
We are delighted to announce that Dame Valerie Adams will be the Ambassador of Fertility Week 2018.   Dame Valerie is an Olympic and Commonwealth shot put champion as well as a proud Pacific woman, wife and mother.  Dame Valerie will be sharing her story at the Auckland and Waikato events and on this site during Fertility Week.  You'll also hear her promoting Fertility Week on radio stations around the country. 
Our heartfelt thanks to Dame Valerie and her whanau for endorsing our kaupapa and helping kiwis start the conversation about infertility, learn vital facts as well as when and where to seek help.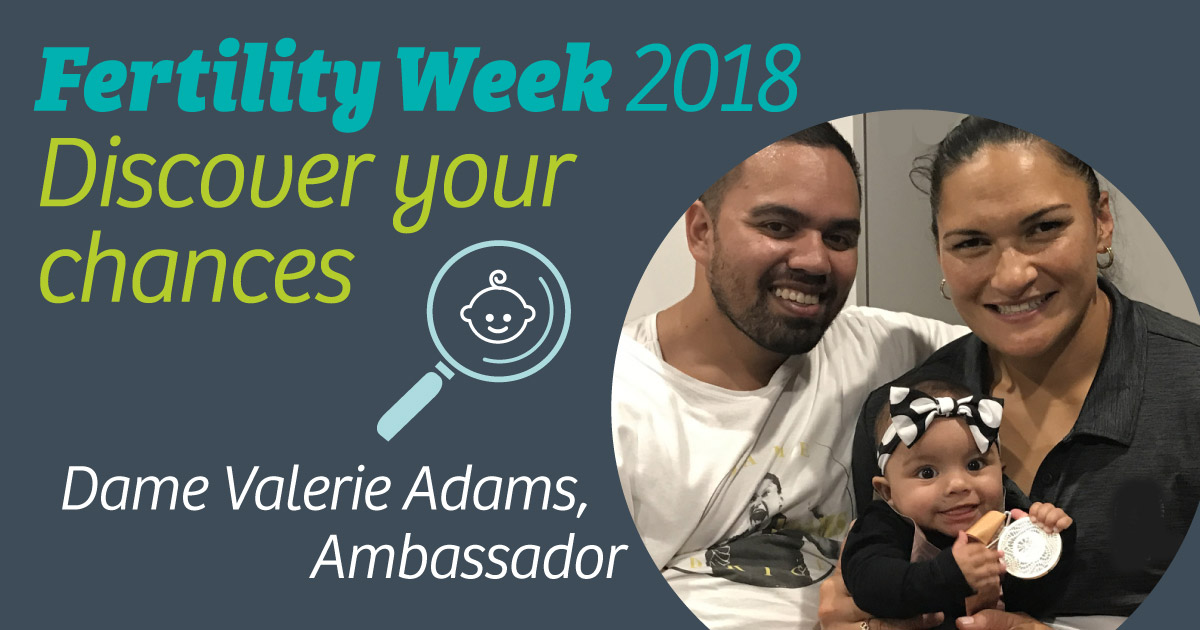 What are your chances?
New Zealanders don't know enough about their fertility.   Fertility Week challenges young New Zealanders to start the conversation about fertility, and learn a few vital facts.  We aim to help all New Zealanders who want to build families - either yesterday, today or in the future, maximise their chances of having the family they dream of.
A couple is regarded as having a fertility problem when they have not conceived after 12 months of regular unprotected sexual intercourse or when they have a medical condition which can affect fertility, such as irregular periods.  Infertility is a medical condition recognised by the World Health Organisation.
There are many contributors of infertility; common problems include poor sperm quality, damaged fallopian tubes, endometriosis and hormonal imbalances – to name a few. 
Infertility is not just a female problem – in about 40% of infertile couples the problem is a female factor, in about 40% it is a male one and for the remaining 20% there is a joint problem, or the cause is unknown.
There are many different forms of whanau in today's society, some of which are made possible with the help of donors and surrogates.  
By the age of 45, 1 in 5 NZ women and couples who try to have a baby will experience infertility.  Most people who will experience infertility will have the child or children they want if they enter their reproductive years with good information – such as the importance of woman's age, acting sooner rather than later, the importance of lifestyle, treatment options.  Know your chances, and improve your chances!